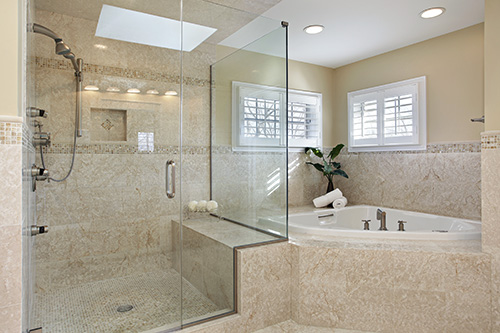 Bring a touch of elegance and value to your bathroom with a new, custom-designed and expertly crafted shower door. We are known for seamless and accurate shower glass installation and shower glass repair in Northern Florida, and our customers are always satisfied with the results.
Types of Shower Frames and Doors
Shower Door Frame Types
Framed shower doors
Better performance
Cost-effective
Glass thickness between 3/16 and 1/4 inch thick
Thinner glass requires a metal frame
Semi-frameless shower doors
Thicker glass
Noticable frame
A compromise between a framed and a frameless shower door

Frameless shower doors
More aesthetically pleasing
Customizable
Lower mold risk
Clear or tempered glass
Glass thickness between 3/8 and 1/2 inch thick
Shower Door Types

Shower Door Types
Swinging shower doors:

Known as a pivot door, single pane of glass attached to the wall that swings in either direction.

Sliding shower doors:

Known as a bypass shower door, glass panels sit in a frame and can slide right or left to open and close.

Rolling shower doors:

Similar to sliding shower doors however, the bottom panes include small wheels which glide along a tracking rod.

Panel shower doors:

Known as a bifold shower door, pane of glass is fixed to the wall while another is fixed with hinges to the opposite wall.
Choose a shower door type:
Contact Us
To learn more about us or receive a free service estimate on shower glass repair, shower glass installation, auto glass, custom window installation, and more in Starke, Hampton, Keystone Heights, Brooker, or Lawtey, FL, please give Lake Area Glass and Mirror Inc. a call at 904-964-7684.